Experiences
Routes to the Origins
Guided tours
Can Jalpí
Farmhouse from the XIV century, which preserves the watchtower attached to the building. This house was the residence of the public notary Jaume-Joan Coll, who was kidnapped during the Turkish pirates' raid in 1545.
Can Roig
In the rural estate of Can Roig the remains of a Roman Villa were located, which has disappeared at present. There a lacus, or tank, was found, whose water came from the aqueduct probably built by the owner of Can Roig.
Aqüeducte romà Can Cua
Roman aqueduct from the III century, which took the water from Can Bufí area and carried it to the Roman Villa of Can Roig. Currently only 4 arches remain, but the structure was originally 3.5 km long.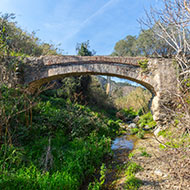 Pont del Diable
Aqueduct from the XVI century, which channelled the water from Can Boveta Mill to Can Oliver del Sitjar, crossing the unevenness of the Riera creek. Until not long ago it was used as a bridge.
Aqüeducte de Sant Pere de Riu
This aqueduct, consisting of one arch only, is the prolongation of the one in Can Cua. The channel where water flowed, with its opus signinum – or waterproof pavement – is still well preserved.
Font del Ferro
This spring is located in the gulley where there was an old iron mine. The mine was lost when the C-32 motorway was built, but later the spring and the surroundings were recovered.
Sant Pere de Riu
Sant Pere de Riu's parish has been documented since 1185 and it still preserves original Romanic elements. The "comunidor" tower stands out, from which you can enjoy a scenic view of the whole valley of the creek.
Molí fariner Can Marquès
Flour mill, possibly from the XI century, which took the energy from the creek water to grind wheat. Along the creek there were up to 11 documented mills. It is likely that some part of the Roman aqueduct was used to channel water towards this mill.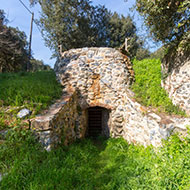 Forn de calç Can Marquès
Lime kiln recovered in 2009. The lime produced in this kiln was used not only for building tasks but also to defend fields from pests and it was taken as a medicine too.
Mas Cànovas
Farmhouse from XVI century, owned by Sir Berenguer de Canovis. It still preserves a defensive tower attached to it, built due to the Turkish pirate attacks in Pineda.
Marpi
Live a family experience at Marpi's rural environment classroom. Route to the Centre of Pineda de Mar